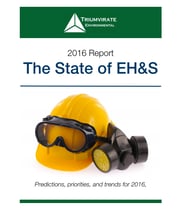 Triumvirate Environmental surveyed just under 200 EH&S professionals over the last two weeks of 2015 at all levels, across all industries and across the United States. We asked respondents what they do, how it's working, where the industry is going and their priorities for 2016. This report breaks it all down to help you learn what's trending, where the industry is going and how to maximize your efforts.


Chapters Include:
Demographics
Priorities and Trends
Technology and Communication
And more!